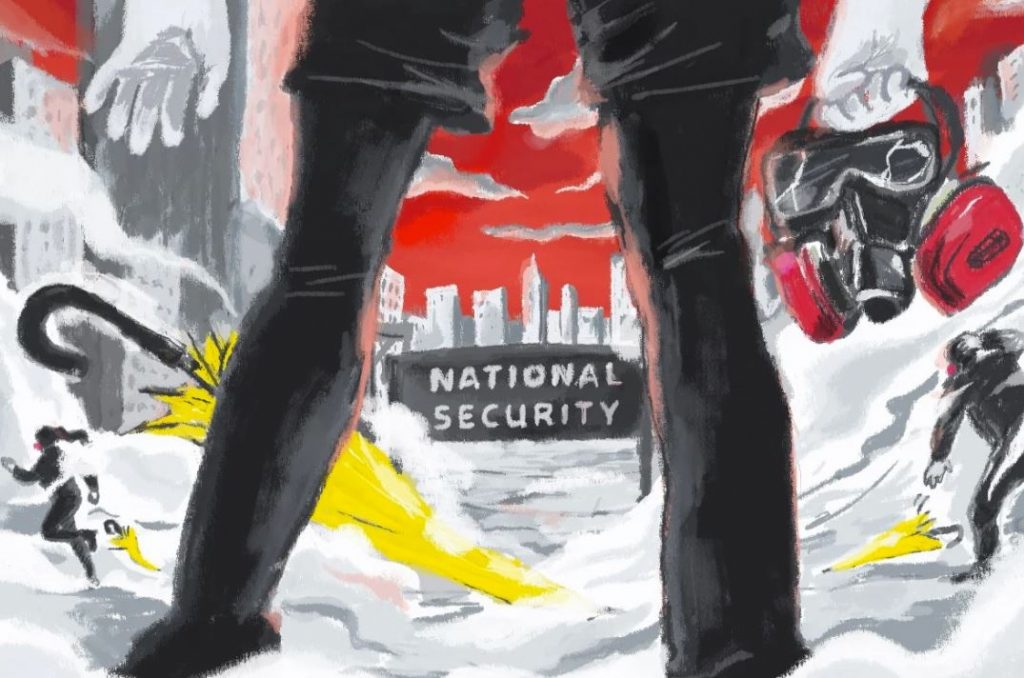 Hong Kong is marking a year since the anti-government movement began
What future for a movement beaten into retreat by a pandemic and looming national security law?
As Hong Kong marks a year since anti-government movement began, this article is first in a series analysing how key players have fared.
Fourteen-year-old Chak-lam arrived at Admiralty at 8am on May 27 and found herself all alone.
She had heard the call, the night before, for protesters to besiege Hong Kong's Legislative Council and block lawmakers from scrutinising the national anthem bill that would penalise anyone who misused or insulted March of the Volunteers.
Instead of black-clad demonstrators, the area was swarming with police officers who allowed only authorised staff and journalists through checkpoints.
The tight security cordon was nothing like the scene almost a year ago on June 12, 2019, when thousands of protesters blocked roads and surrounded Legco to disrupt deliberations on another piece of unpopular legislation, the extradition bill which would have sent fugitives to mainland China.
The mostly young activists succeeded in stopping the sitting, after clashing with police and hurling bricks and projectiles amid clouds of tear gas, in an episode that marked the start of months of anti-government protests and violent confrontations.
But on May 27, Chak-lam, who was arrested last year and had since stayed away from the front lines, could not find other comrades. No one came up to her asking to join forces, like they would have done countless times before as protesters who only knew each other on Telegram would meet at designated places and organise themselves to wreak havoc weekend after weekend over the summer of 2019.
"I was disappointed but also relieved because I did not have to witness another round of clashes or mass arrests," she said. "It's a complicated feeling."
One year on, protesters are finding themselves at a crossroads, grappling with much that has changed in the pulse and purpose of their movement, and in the city itself. Their once formidable ranks have shrunk dramatically, the momentum lost.
Between last June and May 29 this year, police arrested 8,981 people aged between 11 and 84. Some 1,749 have been charged, including 100 who have been convicted. At least 13 have been jailed for between seven days and four years, for offences ranging from possession of offensive weapons in a public place to damaging property and rioting.
The stiffest punishment, a four-year jail term, went to a 22-year-old lifeguard who pleaded guilty to a riot charge. He rammed police barricades and hurled objects at officers outside Legco that fateful day on June 12.
With the exception of a New Year's Day mass protest, all their subsequent gatherings in 2020 have been small affairs quickly quashed by a more aggressive police force pursuing a pre-emptive strategy. The encrypted Telegram channels they created at the height of the movement still exist but the most active ones are not about protest strategy but help for those facing trial and jail time.
Along with the arrests, a new enemy appeared in January. The Covid-19 pandemic effectively halted protest activity, as social-distancing measures were introduced to contain the new coronavirus.
As infections declined in recent weeks, protesters were regrouping and turning out again to demonstrate. But Beijing had another surprise in store. It dropped a bombshell in late May: it would impose a new national security law tailor-made for Hong Kong to "prevent, stop and punish" secessionist and subversive activities, terrorism and foreign interference in the city's affairs.
The triple whammy of the arrests, virus, and a looming national security law has left protesters, politicians and observers seeing little likelihood of campaigns returning on the scale and intensity of last year.
"We have struggled for so long but I feel like we have achieved nothing," said Kitty Fung, a 17-year-old student who went with three classmates to Causeway Bay on the afternoon of May 27 and saw many being arrested by police. When they arrived, about 80 people had already been detained. By day's end, police had arrested 360 people at different locations.
Fung burst into tears as she recalled the afternoon: "We've lost more and more of our comrades."
Police have so far banned most protests citing public health concerns, including the annual June 4 candlelight vigil at Victoria Park to mark the anniversary of the 1989 Tiananmen Square crackdown in Beijing. The rules on social distancing because of the pandemic have made it easier for the force to stop and arrest anyone assembling in groups.
"It seems it is no longer possible for us to do anything, unlike before," Fung said. "I see no hope."
Beijing ups the ante
Mid-November was a turning point for the protest movement as police lay siege to Polytechnic University for 13 days after one of the fiercest clashes with protesters who threw petrol bombs, flaming arrows and bricks.
A police armoured vehicle was set on fire and when officers moved in, more than 1,000 people were trapped inside. The movement had made a tactical mistake by abandoning one of its mantras: to "be water" and move quickly to elude capture.
Later that month, protesters and their supporters won a landslide victory at the district council elections that were seen as a referendum against the government. The opposition took hold of 17 out of 18 district councils as the pro-Beijing camp was shunted aside to lick its wounds and wonder if this was a foretaste of battles to come.
After the PolyU siege, street protests that often descended into violence and mayhem became fewer and fewer, a shift that coincided with new police chief Chris Tang Ping-keung taking the helm and pushing the force towards a more robust, pre-emptive strategy.
On New Year's Day, police allowed a mass protest but by the end, after organisers estimated 1 million people showed up, officers also detained at least 400 people, one of the biggest cases of arrests in one day since the movement began.
The protests first began on a small scale last April in opposition to the extradition bill which people feared would erode their rights. But by June, it had grown into a mass movement, with an estimated 1 million people taking to the streets on June 9.
A week later, an estimated 2 million came out to demonstrate and in the ensuing weeks, demonstrations morphed into a wider anti-government movement with five demands: withdrawal of the bill, retraction on calling the June 12 clashes a riot, an independent inquiry into alleged police brutality, amnesty for those arrested and universal suffrage.
These calls were summed up in the slogan "five demands, not one less". A year later, only one demand – the withdrawal of the bill – had been met. The Hong Kong government refused to entertain the other demands, saying the violence had to end first. Beijing, incensed by the anti-government and anti-mainland sentiments, did not send in the troops as many had feared.
Instead, it arranged for a change of leadership of those in charge of Hong Kong affairs, putting in new directors at the liaison office and the State Council's Hong Kong and Macau Affairs Office.
In April, both offices went on the offensive in a clear change of strategy, taking on the pan-democrat lawmakers and lambasting them repeatedly for filibustering to block scrutiny of the national anthem bill. In less than two months, business was done and the bill was passed on June 4.
Still, few expected Beijing to unveil the national security law. Once passed by the national legislature, it will be included in Annex III of the Basic Law, which means it will take effect without having to go before the city's lawmakers. And with that, mainland Chinese agents could operate in the city when needed, Beijing said.
The last time the Hong Kong government tried to enact its own national security legislation as mandated under Article 23 in the Basic Law, the city's mini-constitution, was in 2003, but the plan was abandoned after an estimated half a million people took to the streets to oppose it.
"The national security law came all of a sudden. It totally caught me off guard," Chak-lam said. Echoing other protesters the Post interviewed, she said the resolution was akin to handing the movement and Hong Kong a death sentence.
"When I discussed the worst-case scenario with my friends, we were sure Beijing would not forcefully crack down on the protests by deploying the People's Liberation Army," the young pupil said. "But none of us thought they would introduce something harsher than Chinese troops."
A protester in his late 20s, who only gave his name as Tom, said while his peers had contemplated the possibility of the Hong Kong government pushing ahead with Article 23, few predicted Beijing would impose the national security law on the city directly. It was a masterstroke few saw coming.
Dr Edmund Cheng Wai, a political scientist at City University who conducted field studies on last year's protests, said the shock was partly because of young Hongkongers' lack of understanding of the central government's thinking and less still, their desire to learn about it.
Even among university students, he said, courses on Chinese politics were unpopular. "Many thought Beijing would not do such a thing to Hong Kong, the financial lung of the country," he said.
Cheng was pessimistic about the future of the movement for a mix of reasons, including the increased legal risks, protest fatigue, current social-distancing measures as well as the limited tangible achievements from last year's confrontations.
Most importantly, he said, unlike previous controversies in which the Hong Kong government was the main target, the new law was being helmed by Beijing itself, with little involvement from the city's administration.
"Unlike the extradition bill saga, people now do not see any possibility of the national security bill being scrapped," he said. "They have no idea what they can still do."
He said it depended on whether the circumstances would change if social-distancing rules were lifted.
Protesters the Post approached confessed to feeling lost, despondent even, and said they needed to see how the new national security law would unfold before planning their next steps. For now, about the only idea they had to keep spirits up was to patronise protester-friendly restaurants and shops and enlarge the "yellow economic zone".
Collateral damage
In 2020, Hong Kong also found itself caught in the middle of rapidly deteriorating ties between the United States and China, already in the throes of a trade war.
In retaliation to Beijing's move to impose the national security law, the US declared Hong Kong to be no longer suitably autonomous from China, a precursor to the removal of special trading privileges. President Donald Trump vowed sanctions and the removal of those privileges.
Protesters who lobbied the US in 2019 to do just that through an enabling legislation cheered Trump on, hoping Beijing would be forced to back down. But observers doubted such an outcome, warning that any US sanctions might only provoke Beijing into hardening its position.
"Beijing probably calculated that President Donald Trump speaks loudly but carries a small stick, and is therefore not deterred by the threat of US responses," said Steve Tsang, director of SOAS China Institute in London.
Opposition lawmaker Eddie Chu Hoi-dick said Hong Kong activists had succeeded in capitalising on the geopolitical rivalry to bring the city's issues onto the international stage, but conceded they might not secure real concessions. "If in the end Beijing does not care, we'll be back to square one," he said.
Felix Chung Kwok-pan, lawmaker and leader of the business-friendly Liberal Party, blamed both the city government and the opposition for making Hong Kong the collateral damage in the superpower conflict. It was the government's intransigence to press on with the extradition bill that sparked the political unrest, he said.
As for the opposition, he said their determination to demonise Article 23 made it impossible for Hong Kong to introduce its own national security law, pushing Beijing to proceed on its own.
Chung doubted that the business sector would air concerns about the national security law the way it opposed the extradition bill last year. "Owners of businesses have had a hard time during the pandemic and were frustrated to see the protests return as soon as the situation improved," he said.
"They know they are unlikely to break the national security law, and they know that their opposition will not change Beijing's mind. They are also aware the local government is incapable of restoring order on its own."
Indeed, the previously dithering pro-establishment camp appeared galvanised by Beijing's move. It swiftly formed an alliance to support the national security law, operated 5,400 street booths and a website for eight days, during which it collected more than 2.9 million signatures in support of the legislation.
Lau Siu-kai, vice-president of the Chinese Association of Hong Kong and Macau Studies, said anti-government protesters gradually lost support from Hongkongers eager to see peace and order restored in an economy ravaged by the pandemic.
A pan-democrat veteran, who spoke on condition of anonymity, said he had warned his colleagues that the central government might move on the national security law on its own. "I believe that was always an option, but Beijing finally decided to use it – and implement it in a harsher way – when it saw the protests return amid the pandemic," he said.
He added that having seen the way opposition lawmakers tried to block the national anthem bill, Beijing realised it could not count on Hong Kong to implement Article 23. "Hongkongers always see things from their own perspective, but few would think of how their opponents would respond," the veteran lamented, saying each side lived in its own echo chamber.
Political scientist Tsang put it thus: "The tragedy is that neither Beijing nor the people of Hong Kong understand each other. Both sides decided to stick to their positions and thus escalated to a confrontation that could have been avoided or at least deferred for some time."
Staying to fight another day or leaving?
For now, as the city awaits the details of the national security law, groups are planning protests and hoping for the "big one" that would once again exact a cost on the city like they did in 2019. That date could be on any of the key turning points of last year's outpouring of anger.
Jimmy Sham Tsz-kit, convenor of the Civil Human Rights Front which organised the estimated 1 million- and 2 million-strong marches of last June, has warned of a large-scale protest on July 1, the anniversary of Hong Kong's return to China.
Others, especially lawmakers, are mulling over how they can push ahead for a breakthrough at the Legco elections in September, fearful of disqualifications if punitive new rules kick in.
The city is also caught in a new swirl of anxiety – and excitement. Tens of thousands of Hongkongers with British National (Overseas) passports are reportedly applying to renew their travel documents, following a London pledge that could put them on the path to British citizenship if the new national security law was passed.
Emigration consultant Benny Cheung Ka-hei said he had been receiving 30 to 40 inquiries a day, more than three times the usual number, mostly from professionals aged between 30 and 50, with children.
Amid the frenzy, however, younger protesters said they were not in a hurry to go anywhere. Ironically, many are not directly eligible for the passport. But it did not matter, they said. "I have never thought of leaving as this is the hometown I love," said student Sophie Lai who was in Causeway Bay on May 27.
Protesters had been through setbacks before, she said, and even if they were defeated now, the desire to keep Hong Kong unique remained undimmed.
She was in a long fight, she vowed, against mainland encroachment. "I will stay and defend the city," said the 16-year-old.
Chak-lam, who was charged with unlawful assembly for putting up roadblocks last August, had no regrets either for any punishment awaiting her. "I would be a bystander watching our city being stripped of its freedoms if I did nothing," she said.
Her mother, she said, had once implored her to leave the city. "But my immediate response at the time – which still stands now – was: can I stay?"
Additional reporting by Sum Lok-kei, Holly Chik and Natalie Wong
Read the other articles in the series here.